Add-on Play Material Boxes for Homes and Nurseries
(available in select countries)
Because little children learn through sensory play
Meet the very popular Bablr Material Box. When you enroll in a Bablr Programme, you can also opt to add a Bablr Material Box if it is available in your country. Let's face it, there are many options of activity materials available to parents or nurseries today. But a Bablr Box is a different animal. It's not designed for the sporadic play of the child. Every playset is intricately linked to hundreds of other developmental inputs that you would offer to your children in the Bablr Programme. Also, the algorithm ensures that you are doing the right activity at the right time. Sample some of the exciting play materials below. 
In the Bablr Programme, everything is linked to everything else. It's like you are building a house. That is why, in this section, you get a flavour of all the developmental activities included in the Bablr Programme and not just materials based activities.
All Bablr materials have best in class quality & finish and they are certified on the standards of each market that we operate in.
You can explore below what's included in the programme and can book a free demo for a deeper dive.
Note: Bablr Play Materials are currently available in select countries. We are working hard to expand this reach. Also in some geographies, we partner with reputed brands to provide play materials for the programme. If a Bablr Early Learning Premium Plus Programme (the one with play materials) is available in your country, you will also have the opportunity to interact with a Sales Counsellor before making your purchase. They will be happy to answer your questions about the play materials.
Developmental Experiences
Cooking in the kitchen with Mom, smelling the roses or identifying light and heavy. New developmental experiences every week make sure that your baby is exposed to their world in a manner that gives her an edge.
Hundreds of Storybooks in English and other regional languages. Dozens of rhymes including sing-along versions, with original audio tracks. All are sequenced by the algorithm based on age and progress. First, read to little sweethearts and then read with them.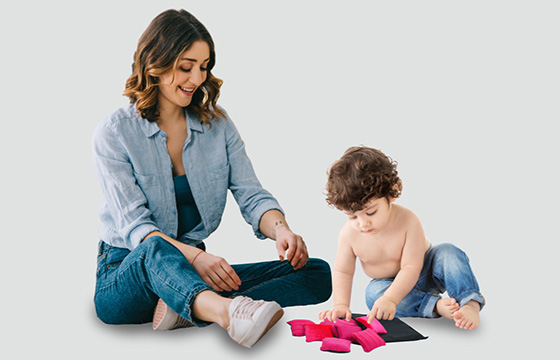 Get those neurons firing with amazing textured pillows, dressing kit, weight blocks and many other play kits inspired by the Montessori Method.
A totally new paradigm. 6000+ cards for an engaging play with little rock stars. The algorithm ensures the right sequence and repetitions. Clean and non-moving baby and toddler-friendly visuals, vocal cues for you, multiple languages and many more features.
Providing a rich language environment is a key pillar in the Bablr method. And we provide you with the right tools to be able to accomplish it. You will have rich conversations at home, in class or over an outdoor tour almost every day, enriching the knowledge base of the curious soul.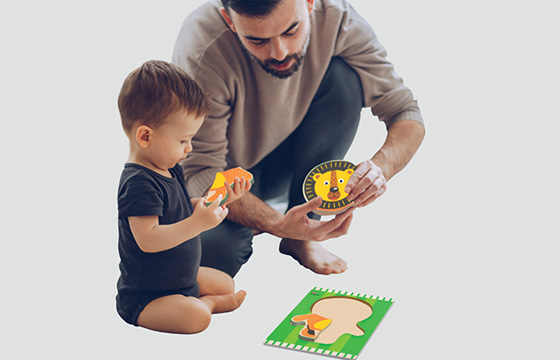 Thoughtfully designed for engagement and brain development and with increasing levels of difficulty as the children grow. Just follow our activity guides and soon you will have champions around you.
Yes. Children under three can also read! Systematic Bablr inputs are likely to get your prodigies to that place even before they turn three. Once that happens, we will have specially created books for the occasion. These books tell funny stories that these little rock stars can read. With this headstart, most children end up developing a lifelong love for reading. 
Multidimensional Exercises
Later in the programme, it all comes together with multi-dimensional activity kits like Old Macdonald Farm or Walk with the Clock. Language, Critical Thinking, Creativity and more. They have it all but not in thin air. Your children have already learnt the concepts through other Bablr activities. It's time to apply.
Play kits designed by experts,
shipped based on your baby's age
0 to 12 months
13 to 24 months
25 to 36 months
0 to 12 months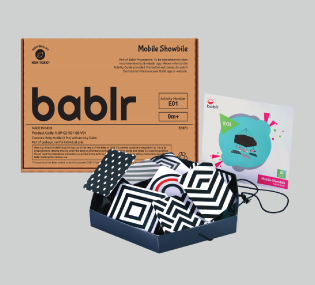 This activity uses a fun baby mobile and extremes of black, white and red. Makes a great visual stimulation experience for a small baby. Comes in its own packaging with a detailed guide for parents.
The top-of-the-line lion and mouse hand puppets and a story book to help you stimulate your baby's imagination and encourage social play. Comes in its own packaging with a detailed guide for parents.
Black and Red Cards Set for an early introduction to shapes. Understanding of shapes goes a long way to support cognitive development. Comes in its own packaging with a detailed guide for parents.
13 to 24 months
25 to 36 months
Materials shown on this brochure are representative in nature and get refreshed occasionally. Your actual box may contain different activity sets or different components within an activity set. Bablr cancellation policy will apply even if the materials shipped in a box are different from this brochure. Please talk to your counsellor for more info.